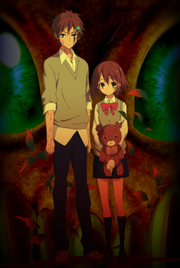 Pupa (ピューパ Pyūpa) is a Japanese horror anime adaptation of the manga and is produced by Studio Deen.
The "life-and-death sibling" story follows Utsutsu and Yume Hasegawa, a boy and his little sister who find themselves all alone. One day, Yume sees a mysterious red butterfly and her body undergoes a strange metamorphosis—into a creature that eats humans. Utsutsu struggles to find a way to restore his sister.
Ad blocker interference detected!
Wikia is a free-to-use site that makes money from advertising. We have a modified experience for viewers using ad blockers

Wikia is not accessible if you've made further modifications. Remove the custom ad blocker rule(s) and the page will load as expected.